Posts for: January, 2019
By St. George Dental Care
January 15, 2019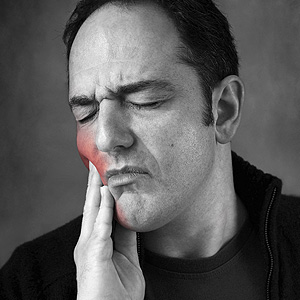 Have you noticed a clicking, popping, or grating sound when you open or close your jaw? As many as 36 million U.S. adults experience this phenomenon in one or both of the joints that connect the lower jaw (mandible) to the skull.
While the sounds may be disconcerting, there's generally no cause for concern in the absence of other symptoms. They're most likely caused by a harmless shift in the position of the disk inside each temporomandibular (jaw) joint, and it can diminish or disappear entirely over time. But, if you're also experiencing persistent discomfort, severe pain, or limited function in your jaw (which can include getting it "stuck" in an opened or closed position), then you may be suffering from a temporomandibular joint disorder — part of a complex set of conditions affecting one or both jaw joints, muscles and/or other surrounding tissues. (You may have heard the condition called TMJ, which is actually the abbreviation for the temporomandibular joint itself. Health care professionals prefer TMJD or TMD.)
Depending on the severity, TMD can interfere with your ability to speak, chew and even make facial expressions. The cause is unclear, but genes, gender, environment, stress and behavior are believed to play a role. It can also be symptomatic of a larger medical problem, such as fibromyalgia, which can produce pain all over the body.
Management Options for TMD
TMD traditionally was viewed as a bite problem (malocclusion) requiring mechanical correction — e.g., through orthodontic braces or surgery. But the current therapeutic model approaches TMD as an orthopedic problem (joint inflammation, muscle soreness, strained tendons and ligaments, and disk damage) and favors a sequence of conservative, reversible procedures — hot or cold compresses in the jaw area, soft foods, physical therapy/massage, medication, and/or a bite guard to decrease pressure on jaw joints from tooth clenching and grinding — prior to more aggressive, irreversible treatment alternatives.
If you would like more information about TMD, please contact us or schedule an appointment for a consultation. You can also learn more about the subject by reading the Dear Doctor magazine articles "Seeking Relief from TMD" and "Chronic Jaw Pain and Associated Conditions."
By St. George Dental Care
January 05, 2019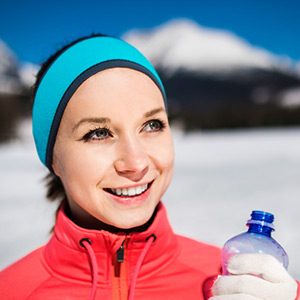 Whether you live in the snow belt or the sunny south, the winter season often means a change in the weather. In many places, the sun isn't as strong and cooler temperatures bring relief from the summer's heat. Yet even though it may be chillier outside, your body's need for hydration is the same as it was in the summer—and a lack of proper hydration can be bad news for your oral hygiene.
Everyone knows we need to drink plenty of water every day to stay healthy. It's important for good oral hygiene because water is the major component of saliva, which fights bacteria and helps neutralize the acids that cause tooth decay. Water also keeps the soft tissues of the mouth moist and healthy, and helps fight bad breath. In many communities tap water is fluoridated, which offers proven protection against cavities.
But in the middle of winter, fewer people carry around bottles of cold water for refreshment—and that's a shame, because we need it just as much! While indoor (and outdoor) air is often drier in winter, your body continues to lose water in the same ways. And if you keep up a healthy exercise routine (like jogging, snow sports or backyard fun and games), you still need plenty of hydration. An ice-cold glass of water may not be as appealing in January as in July…but it's just as important.
Of course, the water you drink doesn't have to be freezing cold to do its job. Hot tea (especially herbal tea) can be a healthy option for wintertime hydration. So is plain water without ice. Fruits and vegetables also contain lots of water, plus vitamins, fiber, and many more substances that are good for your body.
But there are some drinks you should avoid—or at least take in moderation. Regularly drinking coffee and tea can stain your teeth, and excessive caffeine may have negative health effects. Consuming alcoholic beverages can cause dry mouth, and may increase the risk of oral cancers. And, of course, drinks that contain sugar (including soda, some juices, and many coffee and hot chocolate beverages) are linked not only to tooth decay, but to other health problems as well.
And whatever the season, don't forget to come in to the dental office for regular checkups and cleanings. We can remove the sticky tartar that clings to your teeth and may cause tooth decay and other problems. We will also perform a complete dental exam, evaluate your oral health and help resolve small problems before they turn into big headaches (or toothaches). Working together, we can help you enjoy the benefits of good oral hygiene all though the year.
If you would like more information on oral hygiene, please contact us or schedule a consultation. You can learn more by reading the Dear Doctor magazine articles "10 Tips For Daily Oral Care at Home" and "Think Before You Drink."