Posts for tag: nutrition
By St. George Dental Care
September 17, 2018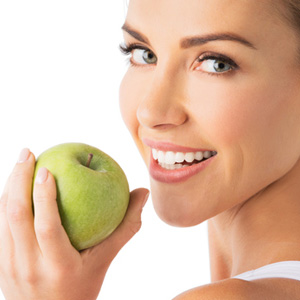 If you're brushing and flossing daily, as well as seeing your dentist at least every six months, you're doing the top things needed to maintain your dental health. But all your hygiene efforts could be undermined if you're not eating a dental-friendly diet. Simply put, there are foods that protect and promote dental health and those that increase your risk of dental disease.
Diets in the latter category are typically high in added sugar and low in natural food fiber. The largest sources of these are processed sugars from sugar cane or beets and high fructose corn syrup. With just a little knowledgeable label reading, you can find sugar and its various aliases added to thousands of processed food items including pastries, candies, sodas and energy drinks.
Heavy consumption of processed sugars also contributes to dental disease. Disease-causing bacteria thrive on sugar as a food source, which fuels both their growth and their production of oral acid. Elevated acid levels can dissolve the minerals in tooth enamel faster than saliva can keep up. Softened enamel opens the door to tooth decay, while increased bacterial growth can lead to periodontal (gum) disease.
A diet, however, low in added sugar and high in fiber can have the opposite effect. Although fresh fruits and vegetables contain natural sugars, they also have indigestible parts called fiber that slow the digestion of any sugars and allow the body to more efficiently process them.  With the higher quantity of vitamins and minerals found in unprocessed foods, the overall effect of this diet is a decrease in your risk for dental disease.
Speaking of dental-friendly foods, we should also give honorable mentions to certain dairy items like cheese and milk that stimulate saliva production and are rich in calcium needed for tooth strength. Another beneficial category is both black and green tea, which contain antioxidants to fight disease and fluoride to strengthen enamel.
Adopting a low-sugar/high-fiber diet can have a profound impact on your overall health. Over time, you'll also reap dental health rewards with stronger teeth and gums and a lower risk of tooth decay and gum disease.
If you would like more information on diet and oral health, please contact us or schedule an appointment for a consultation. You can also learn more about this topic by reading the Dear Doctor magazine article "Nutrition & Oral Health."
By St. George Dental Care
April 10, 2018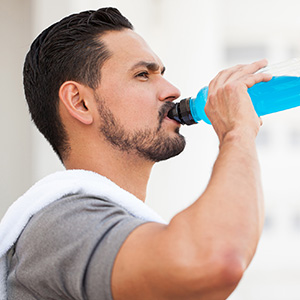 In the sports world, athletes are always looking for an edge. And it's not just college or professional sports—even Little Leaguers are focused on enhancing their performance.
That's why sports and energy drinks have rocketed in popularity. With marketing pitches promising to increase stamina or replace lost nutrients from strenuous workouts, it's not unusual to find these beverages in sports bags or the team water cooler.
But there's a downside to them regarding your dental health—they're often high in sugar and acidity. Both drink types could increase your risk of tooth decay or periodontal (gum) disease over time.
Sugar is a primary food source for the bacteria that can trigger a gum infection. They also produce acid, which at high levels can erode tooth enamel and lead to tooth decay. The risk for enamel erosion also increases with the drink's acidity.
You can lessen your risk of these unpleasant outcomes by restricting your consumption of these beverages. In fact, unless your sports activity is highly strenuous for long periods, your best hydration choice is usually water.
But if you do drink a sports or energy drink for an extra lift, be sure to take these precautions for the sake of your teeth:
Try to drink them only at mealtimes. Continually sipping on these drinks between meals never gives your saliva a chance to neutralize mouth acid. Reserving acidic foods and beverages for mealtimes will allow saliva to catch up until the next meal.
Rinse with water after your drink. Water usually has a neutral pH. This can help dilute mouth acid and reduce the mouth's overall acidity.
Don't brush right after drinking or eating. Increased acid that can occur right after drinking or eating can immediately soften tooth enamel, but saliva can neutralize and help restore minerals to tooth enamel within an hour. Brushing during this period could remove tiny bits of the enamel's minerals.
Taking these precautions will help keep sports or energy drinks from eroding your tooth enamel. Once it's gone, you won't be able to get it back.
If you would like more information on protecting your tooth enamel, please contact us or schedule an appointment for a consultation. You can also learn more about this topic by reading the Dear Doctor magazine article "Think Before You Drink: Sports and Energy Beverages Bathe Teeth in Erosive Acids."
By St. George Dental Care
July 12, 2017
Energy drink makers would have you believe their products are a healthy rehydration choice for athletes while also giving them keener focus and renewed vitality. But before adding them to your sports regimen, you should also consider what effect these beverages could have on your teeth.
Energy drinks are similar in ingredients to sports drinks like Gatorade® and PowerAde®, which mostly consist of water, salts, vitamins, sugars and acids. In addition, energy drinks like Red Bull® and Monster Energy® add caffeine to boost energy.
Besides their sugar content, the main threat from a dental health perspective for both of these drinks is their acidity, which can severely erode tooth enamel. The irreplaceable loss of enamel significantly increases your risk of tooth decay and eventually tooth loss.
The threat of enamel erosion is especially pronounced whenever the mouth's pH level falls below 5.5. The acidity of both sports and energy drinks falls well below this mark. In one experimental study samples of enamel exposed to a number of sports drinks lost an average of 1.5% of mineral content over five days; energy drinks more than doubled that loss at 3.1%.
Given the potential harm these beverages, especially energy drinks, can cause your teeth, you should exercise caution when consuming them. In fact, our best advice is for you to avoid energy drinks altogether, for your overall health as well as your teeth's sake.
Unless you're participating in a physically intense sport, water is your best source for hydration after exertion. Â If you do drink sports beverages, try to limit them to meal times when your saliva is most active to neutralize mouth acid. You can also rinse out your mouth with water after drinking to help further reduce mouth acidity.
As an athlete, you've trained your body to be at its optimum physical peak. Don't let energy or sports drinks take the edge off your health, especially your teeth.
If you would like more information on the effects of sports or energy drinks on dental health, please contact us or schedule an appointment for a consultation. You can also learn more about this topic by reading the Dear Doctor magazine article "Sports and Energy Beverages Bathe Teeth in Erosive Acids."